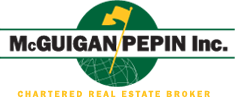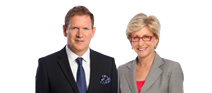 Toll-Free: 855.543.8383 Phone: 514.937.8383 Online: www.McGuiganPepin.com
Appetizers
Carol's Oriental Shrimp
Total cooking time: 30 minutes
1 LB. COOKED MEDIUM SHRIMP
1 1/2 TBSP. MENNI NOODLE SOUP SAUCE (KIKKOMEN)
2 TBSP. OLIVE OIL
1/2 TO 1 TSP. SESAME OIL
4 TBSP. LIME JUICE
12 WOODEN SKEWERS (SHORT) SOAKED IN WATER FOR 20 MINUTES
1 LARGE HANDFULL CORIANDER FINELY CHOPPED
2 MEDIUM SHALLOTS FINELY CHOPPED
1 OR 2 TSP OF MINCED JAPANESE RADISH - DAIKON (OPTIONAL BUT RECOMMENDED)
TOASTED SESAME SEEDS
SERVES 4 AS AN APPETIZER.
Sauce:

Blend together the menni, olive oil and sesame oil

Add: lime juice 1 tbsp at a time. Continue to blend until it tastes just right for you. The sauce can be made in advance and refrigerated until you are ready to serve.

Prepare the coriander and shallots and set aside.

Thaw shrimp, if frozen, by running under cold water. Pat dry. Put two or three on each skewer and arrange in a circle on a platter.

When ready to serve add the dry ingredients to sauce and spoon all over the shrimp. Sprinkle with sesame seeds.
by
Tango and Martini