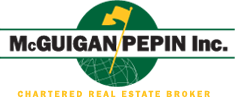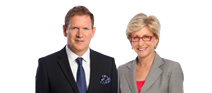 Toll-Free: 855.543.8383 Phone: 514.937.8383 Online: www.McGuiganPepin.com
Meats
Filet of Sole a la Gillies
Total cooking time: 10 minutes
SERVES:4 PEOPLE
2 LARGE SOLES 12-14 OZ EACH
1/8 PT WHITE WINE
2 TBS. SOUR CREAM
8 MED. LETTUCE LEAVES
1/4 OZ BUTTER
1/2 PT FISH VELOUTE OR
WHITE SAUCE WITH ADDED DRIED CHICKEN STOCK
FILLING: Sole fillets are filled with a Duxelles which is 4 oz mushrooms and 4 0z finely chopped onions cooked in butter and seasoned with salt and pepper.

GARNISHES: Fleurons - these are puff pastry crescent shapes, mushrooms and parsley.

METHOD: Cut each fillet into two. Lightly blanch 8 lettuce leaves and refresh under cold water.

Have the water salted.

Put equal amounts of Duxelle on each sole and roll up but keep fairly flat.

Season. Wrap sole in lettuce leaf.

Lay sole on a lightly buttered dish and add wine.

Cover with butter paper and tinfoil or a lightly fitting lid.

Bake at 350F. until tender. About 10 minutes.

When cooked, drain fish well and dress neatly on an earthenware dish.

Add the cooking liqueur to the veloute in a small saucepan and reduce to a creamy consistency.

Add sour cream, stirring in well. Check seasoning.

Coat fillets with sauce and garnish with fleurons, mushrooms and parsley.

Dish can be prepared in advance up to step 4, but leave out wine until cooking time.
by
AnnaBella & Brian Gillies