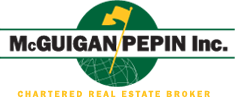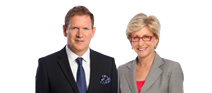 Toll-Free: 855.543.8383 Phone: 514.937.8383 Online: www.McGuiganPepin.com
Reggie's Freezer-Friendly Holiday Menus
Frozen Christmas Bombe
Total cooking time: see below
½ CUP CANDIED CHERRIES, HALVED
½ CUP RAISINS
½ CUP CANDIED PINEAPPLE
¼ PLUS 2 TBSP. DARK RUM, DIVIDED
½ CUP TOASTED ALMONDS OR PECANS
1/3 CUP CRYSTALLIZED GINGER
6 CUPS VANILLA ICE CREAM
1 CUP WHIPPING CREAM
¼ CUP ICING SUGAR
CANDIED ROSE PETALS OR VIOLETS
Combine cherries, raisins, pineapple and ¼ cup rum in a saucepan and bring to a boil.

Remove from heat and allow fruit to cool in rum. Stir toasted nuts and ginger into fruit/rum.

Line an 8 cup mixing bowl or mold with plastic wrap. Working quickly, spoon about 1 ½ cups ice cream into bottom of mold, pressing down to about 1 inch thickness. Spread 1/3 fruit mixture over ice cream. Repeat layers, ending with fruit, then top mold with remaining ice cream, packing it down. Cover and freeze.

Up to 1 hour before serving, whip cream until soft peaks form. Gradually beat in icing sugar and remaining rum. Cover and refrigerate.

To serve, unmold onto serving platter using plastic wrap to pull bombe out of container.

Frost with prepared whipped cream and decorate with candied petals.

Cut into wedges to serve 8 – 10. If you prefer to skip the whipped cream topping – use instead a fruit coulison the side.
by
Reggie Robbins