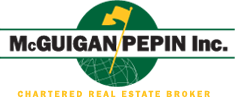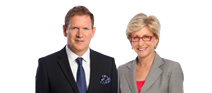 Toll-Free: 855.543.8383 Phone: 514.937.8383 Online: www.McGuiganPepin.com
Meats
Jean's Ham Loaf
Total cooking time: see below
1 1/2 LB GROUND HAM
1 1/2 LB GROUND PORK
1 LB STEWING VEAL,GROUND
1 CUP BREAD CRUMBS
2 EGGS
1 CUP MILK
MIX WELL WITH YOUR HANDS, ADD A GOOD SHAKE OF PEPPER (NO SALT) AND SHAPE IT INTO A LOAF. PUT IN PAN WITH A 2 INCH RIM. BASTE WITH THE FOLLOWING SAUCE:
1/4 CUP VINEGAR
2 TSP. DRY MUSTARD
3/4 CUP BROWN SUGAR
1/4 CUP WATER
BAKE IN A 325F OVEN FOR 1 1/2 HOURS. I COVER THE TOP WITH CRUSHED PINEAPPLE. YOU CAN USE PINEAPPLE JUICE INSTEAD OF VINEGAR. THIS IS THE AMOUNT TO SERVE 100 PEOPLE (FOR YOUR 25TH ANNIVERSARY).
8 LB GROUND HAM
4 LB GROUND VEAL
4 LB GROUND FRESH PORK
12 EGGS
Combine with 1-2 TBS. dry mustard, 2 qt. soft bread crumbs, 2 qts milk.

Make sauce with 3 cups brown sugar, 1 TBS. dry mustard, 1/2 cup pineapple juice or 1/4 cup vinegar, 1/4 cup water.

Cover the loaves with crushed pineapple and bake in slow 325F oven for 2 hours.
by
Annie Scott Turnbull