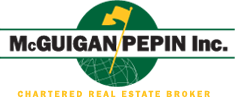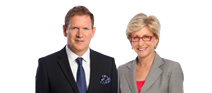 Toll-Free: 855.543.8383 Phone: 514.937.8383 Online: www.McGuiganPepin.com
Reggie's Freezer-Friendly Holiday Menus
Make Ahead Gravy
Total cooking time: see below
1 LB. CHICKEN OR TURKEY PARTS
2 TBSP. BUTTER, DIVIDED
1 ONION
2 WHOLE CLOVES
½ CARROT, CHOPPED
½ CELERY STALK, CHOPPED
PARSLEY
1 BAY LEAF
1/4 TSP. THYME
3 TBSP. FLOUR
¼ CUP PORT (OPTIONAL)
SALT AND PEPPER
Melt 1 tbsp. butter in frying pan and cook chicken or turkey 3-5 minutes or until brown.

Discard fat and transfer to large saucepan.

Add enough cold water to cover. Stick cloves into onion and add to saucepan.

Add carrot, celery, parsley, bay leaf and thyme. Bring to a boil and thensimmer, covered for about an hour. Strain stock, discarding solids, and set aside.

In frying pan, heat remaining butter, stir in flour and cook 2 minutes until brown.

Remove from heat.

Measure 3 cups reserved stock into browned flour.

Cook over medium heat, stirring frequently, until thickened and then stir in port, salt and pepper.

Cool, pour into container and freeze.

Day before using, thaw in fridge and reheat in a saucepan, stirring occasionally.
by
Reggie Robbins