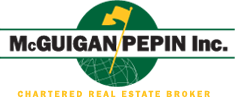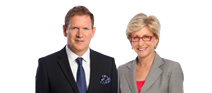 Toll-Free: 855.543.8383 Phone: 514.937.8383 Online: www.McGuiganPepin.com
Desserts
Mocha Torte
Total cooking time: see below
6 EGGS, SEPARATED
1 CUP SUGAR
1 1/2 CUPS FLOUR
6 TBS. WATER
1 TSP. VANILLA
BEAT EGG YOLKS AND SUGAR, ADD WATER GRADUALLY, ADD FLOUR AND THEN VANILLA.
TO ALL, FOLD IN BEATEN EGG WHITES (SOFT STIFF).
DIVIDE INTO TWO ROUND CAKE PANS.
BAKE @ 350 F, 40-45 MINS.
1 LB UNSALTED BUTTER
1 LB ICING SUGAR
2-3 EGG YOLKS
3 TSP. COFFEE IN 1/2 CUP HOT WATER
Beat butter and yolks.

Add coffee and icing sugar alternately.

Cool cakes.

Split each layer in two.

Spread icing evenly on four layers.
by
Paula Outridge