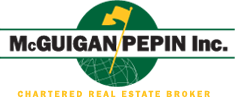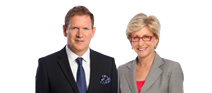 Toll-Free: 855.543.8383 Phone: 514.937.8383 Online: www.McGuiganPepin.com
Desserts
Natalie's Cheesecake
Total cooking time: see below
3 OZ MELTED BUTTER
1 1/2 CUP GRAHAM CRUMBS
1 CUP SUGAR
3 - 8 OZ PKG. CREAM CHEESE
4 EGGS
JUICE AND RIND OF 1 LEMON
Grease 8" spring form pan.

Combine crushed crackers and 3 oz. sugar and butter. Press into pan.

Beat cream cheese, rest of sugar, eggs, lemon juice and rind. Pour into pan.

Bake 1 hour and 35 minutes.

Turn oven off; keep in oven for 25 minutes. Take it out and let cool.

Add pie filling to top when cooled.
by
Natalie