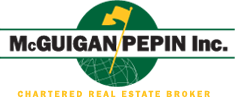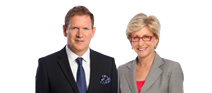 Toll-Free: 855.543.8383 Phone: 514.937.8383 Online: www.McGuiganPepin.com
Desserts
Old-Fashioned Chocolate Chip Cookies
Total cooking time: 8-10 minutes
1 CUP SHORTENING
1 CUP BROWN SUGAR
1/2 CUP GRANULATED SUGAR
1 TSP. VANILLA
2 CUPS FLOUR
1 TSP BAKING SODA
1 TSP SALT
1 CUP CHOCALATE CHIPS
Preheat oven to 375° (190°C)

Cream together shortening and sugars until light and fluffy. Beat in vanilla.

In a separate bowl, combine flour, baking soda and salt. Stir flour mixture into creamed mixture in thirds. Fold in chocalate chips.

Drop even tablespoons of dough 3 inches apart on a grease cookie cheet.

Bake on the middle rack of the oven for 8-10 minutes or until golden. Cool on cookie sheet for 2 minutes, then transfer to cooling racks.

Makes about 4 dozen cookies.
by
Reggie Robbins