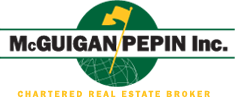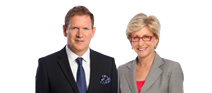 Toll-Free: 855.543.8383 Phone: 514.937.8383 Online: www.McGuiganPepin.com
Soups, sauces
Reggie's Recession Soup
Total cooking time: 30 - 40 minutes
2 TBSP. OLIVE OIL
2 MEDIUM LEEKS, WHITE & GREEN PART ONLY, CHOPPED
2 CLOVES GARLIC, FINELY CHOPPED
PEPPER TO TASTE
3 POTATOES, CUT INTO ½ INCH CUBES
4 CUPS FINELY SHREDDED GREEN CABBAGE
6 CUPS BEEF STOCK
8 OZ. COOKED SMOKED SAUSAGE (OPTIONAL)
¼ CUP CHOPPED FRESH PARSLEY
In a large saucepan, heat oil over medium heat. Add leeks, garlic & pepper. Cook, stirring, for 4 minutes or until softened.

Stir in potatoes, cabbage and stock. Bring to a boil, reduce heat to medium low and simmer, covered, for 20 minutes or until vegetables are tender.

Add parsley and sausage (if desired); cook 5 minutes more or until sausage is heated through.
by
Reggie Robbins