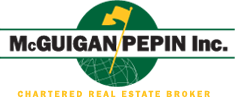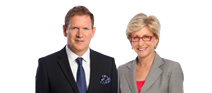 Toll-Free: 855.543.8383 Phone: 514.937.8383 Online: www.McGuiganPepin.com
Pastas
Spinach Lasagne
Total cooking time: see below
12 SHEETS LASAGNA
1 TBS. OIL
1/2 CUP GRATED PARMESAN
2 CUP CHOPPED PARSLEY
CHEESY SPINACH FILLING:
1 SM. CHOPPED ONION
1/4 TSP. DRIED OREGANO
250 G PKG. FROZEN SPINACH
1 CUP RICOTTA CHEESE
1 G HAM, CHOPPED(OPT)
2 BEATEN EGG
S SALT AND PEPPER
Prepare lasagne as per package directions:

Combine butter, onion and oregano in a small bowl, cover, cook in Microwave on HIGH for 3 minutes.

Place spinach in a large bowl, cover and cook on HIGH for 2 minutes or until soft., drain and squeeze out as much liquid as possible.

Return to bowl and stir in onion mixture, cheese, ham and eggs.

Grease a 9x13x2 Pyrex dish and place 3 sheets of cooked or instant lasagne over base, top with 1/3 of the filling.

Repeat with remaining lasagne and filling, finishing with lasagne.

Spread with sauce.

Sprinkle with combined cheese and parsley.

Cook in 400F oven for 45 minutes.
by
Kelly McGuigan