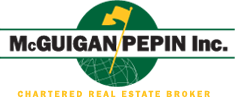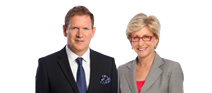 Toll-Free: 855.543.8383 Phone: 514.937.8383 Online: www.McGuiganPepin.com
Reggie's Freezer-Friendly Holiday Menus
Succotash
Total cooking time: see below
2 TBSP. BUTTER
SALT, PEPPER & CAYENNE TO TASTE
½ CUP RED PEPPER, CHOPPED
1 CUP GRATED OLD CHEDDAR CHEESE
½ CUP CELERY, CHOPPED
2 CUPS FROZEN CORN
¼ CUP ONION, CHOPPED
2 CUPS FROZEN LIMA BEANS
1 TBSP. FLOUR
1 CUP BREAD CRUMBS
1 CUP MILK
2 TBSP. MELTED BUTTER
SERVES 8.
Melt butter in saucepan, add red pepper, celery & onion. Sauté 3 to 5 minutes until soft. Sprinkle flour over sautéed vegetables and stir to combine. Cook, stirring 2 minutes.

Gradually stir milk into sautéed vegetables. Cook, over medium heat, stirring frequently, 5 minutes or until sauce thickens. Season with salt, pepper and cayenne. Stir in cheese and cool.

Add corn and beans to cooled cheese sauce. Turn into greased 6 cup casserole.

Combine bread crumbs and butter. Sprinkle over top of casserole. Cover and freeze.

The day before serving, thaw in refrigerator overnight. Bake, covered, in preheated 350 degree oven 1 ½ hours or until bubbly. Remove lid for last 15 minutes to brown topping.
by
Reggie Robbins