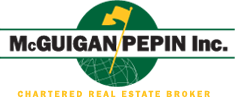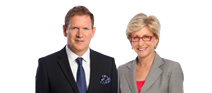 Toll-Free: 855.543.8383 Phone: 514.937.8383 Online: www.McGuiganPepin.com
Meats
Veal Corden Blue
Total cooking time: see below
SERVES: 4
8 SM. VEAL CUTLETS
1/2 CUP SEASONED FLOUR
3 TBS. BUTTER
1/4 CUP MARSALA OR WHITE WINE
8 SLICES GRUYERE
8 SLICES PROSCIUTTO
SALT AND PEPPER
Dredge veal with flour: shake off excess.

Heat butter in large frying pan. When hot, add veal and cook 2-3 minutes each side over medium heat.

Season well when cooking second side.

When all cutlets have been cooked, transfer to a serving platter and set aside. There must be enough space for them to lie flat.

Add wine to pan and cook 2 minutes over high heat.

Pour reduced wine over veal.

Layer cutlets with prosciutto and cheese. Season well.

Broil 2-3 minutes in oven or until cheese melts.

Serve immediately with potato puffs and carrots a l'orange.

These can also be done like individual wrapped-in-veal sandwiches and cooked separately in frying pan.
by
Joan